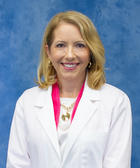 Telemedicine Appointments Available
Specialties
Gastroenterology - Subspecialty
Services
About Me
Dr. Emily Hamrick Battle is a Charleston native and a graduate of George Washington High School. She graduated with honors from University of Richmond and West Virginia University School of Medicine, completing her internal medicine residency at WVU/CAMC in Charleston and her gastroenterology and hepatology fellowship at the University of Virginia.
Dr. Battle was in private practice from 1999-2020. In 2020, she joined the faculty of WVU School of Medicine Charleston Campus and the CAMC Institute for Academic Medicine. In addition to continuing the care of patients, she teaches the gastroenterology specialty to a new generation of future physicians. She also currently practices at CAMC Gastroenterology.
Dr. Battle resides in the Charleston area with her husband, Dill, and their two children: George, who attends Auburn University in Alabama; and Julia, who is a student at George Washington High School. The Battle family enjoys traveling, football, golfing, dance, theatre and spending quality time together.