Physicians practicing medicine at Charleston Area Medical Center are using a new innovation that holds promise to fight lung cancer.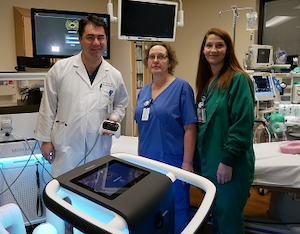 Used to view the inside of the lungs and obtain a tissue sample for biopsy, the Monarch™ Platform from Auris Health could enable earlier and more-accurate diagnosis of small and hard-to-reach nodules in the periphery of the lung.
The technology integrates the latest advancements in robotics, software, data science and endoscopy (the use of small cameras and tools to enter the body through its natural openings). CAMC is one of the first hospitals in the United States to use the platform, which was recently cleared by the U.S. Food and Drug Administration (FDA).
"This is a brand new era in pulmonary medicine, and we're really excited about it," said Tom Takubo, DO, pulmonologist. "We can steer the robot and see into these deep recesses of the lungs that we've never seen before. We should be able to get to these lesions, biopsy them and find out if this is something bad or not without having to do more invasive procedures where someone would have to be surgically opened."
The Monarch Platform utilizes a familiar controller-like interface that physicians use to navigate the flexible robotic endoscope to the periphery of the lung. Combining traditional endoscopic views into the lung with computer-assisted navigation based on 3-D models of the patient's own lung anatomy, the Monarch Platform provides physicians with continuous bronchoscope vision throughout the entire procedure.
Lung cancer is the leading cause of cancer deaths, in part because it has no symptoms in its early stages. This robotic technology can improve vision and control for bronchoscopic procedures and may help doctors make a diagnosis earlier.
"Unfortunately right now if you are diagnosed with lung cancer, there's only about a 15% chance for survival," Takubo said.
The new robotic technology incorporates the electromagnetic navigational bronchoscopy with real live camera feedback. Takubo said this allows him to see all the way to the lining of the lung in many instances and the camera lets him see what's out there giving him a more precise biopsy.
"The hope with this new technology and robotics that we have here at CAMC is that we'll be able to navigate to these lesions and diagnose them at a much earlier stage than what we've ever been able to do in the past and shift the diagnosis more to early stage lung cancer than late stage," Takubo said. "If you catch lung cancer early in stage 1 or 2, the chance of survival goes up to 88-92%."