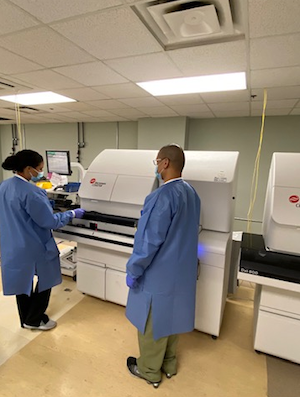 Since mid-March, CAMC has processed thousands of tests to determine if people had COVID-19. Collection of specimens for this testing, from the surface of the respiratory mucus with nasopharyngeal swabs, is used for the diagnosis of COVID-19. This is the same required specimen needed for other suspected respiratory viral infections.
COVID-19 affects different people in different ways. Some have had a wide range of symptoms, while others have had no symptoms at all. Results from the nasal swab tells doctors if someone has a current infection. But what if you were infected and didn't know it? That's what antibody testing can determine, which is now being performed at CAMC.
"There have been multiple requests by community providers for COVID-19 antibody testing," said Connie Crede, CAMC laboratory director. "The results, along with other clinical information, can help health care providers make informed recommendations about a patient's care."
Antibody tests check your blood to look for signs that you had a previous viral infection. Antibodies are proteins produced by the immune system to help fight off a particular infection. They are found in the liquid part of blood specimens (plasma).
The COVID-19 antibody test provides valuable information to people who are curious if an unexplained respiratory illness they had earlier this year actually was COVID-19.
If antibodies are detected, this likely indicates that a person was previously infected with the virus that causes COVID-19.
Like other blood work, antibody tests require a physician's order. Your insurance will be billed.
CAMC will perform antibody testing on its new Beckman Coulter instruments, which is just one of the lab's newest enhancements in recent months.
Since the pandemic began, CAMC has invested hundreds of thousands of dollars into new lab equipment and supplies for viral testing, including its new antibody testing equipment.
"We have replaced and standardized the chemistry and immunoassay instruments across all CAMC labs," Crede said.
Millions of chemistry and immunoassay tests are performed at CAMC every year.
A new automation system drives faster turnaround times, has a pre-analytical sample quality detection system and has fewer manual processing steps. 
"The Beckman Coulter DXA 5000 connects the chemistry, immunoassay, hematology and coagulation instruments to this powerful line so that specimens are delivered via the line to the instruments that will be performing them," Crede explained.
"As CAMC outreach continues to grow, we now are set up for success with our AU analyzers because we will have the capacity to increase our throughput without compromising turnaround times," Crede said. "Our emergency rooms are continuing to grow with an ever-increasing need for quicker testing turnaround times, and with these new instruments and state-of-the-art automated line, we will be able to meet this demand."