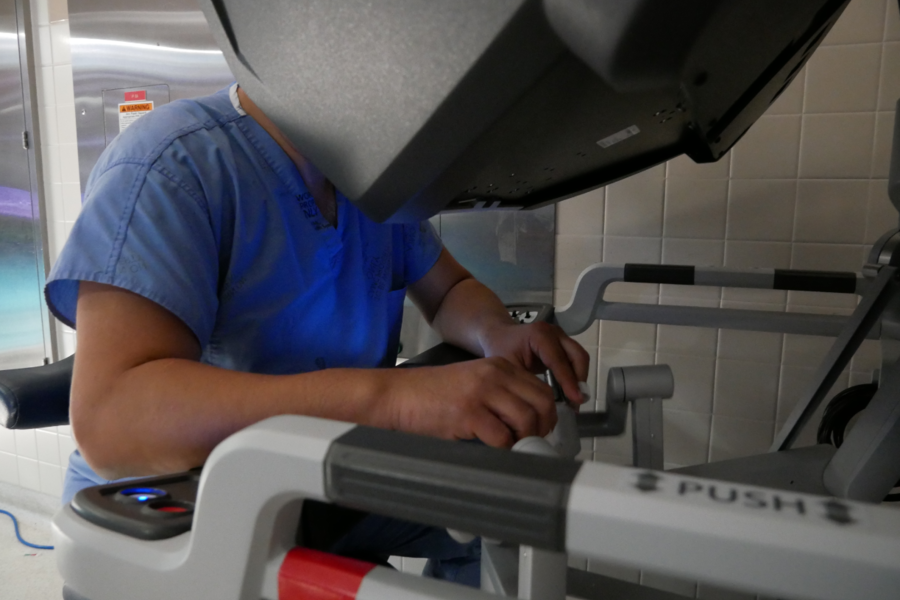 Cardiothoracic surgeons at CAMC often use small incisions to perform heart procedures laparoscopically, and their expertise and technology has evolved into using a robot to assist on procedures such as mitral valve repairs. This minimally invasive approach is far easier on patients than the traditional method of cracking apart the breastbone to open the chest and access the heart.
The left side of the heart receives blood with oxygen from the lungs and pumps that blood out to the rest of the body. The mitral valve is a one-way connector between the left atrium and left ventricle of the heart.
Sometimes the mitral valve doesn't work properly, becoming leaky or too narrow for the blood to flow easily. That's when you need to see a doctor.
"Mild leaks can be tolerated, but sometimes it gets to the point where it needs repaired," said Hazaim Alwair, MD, cardiothoracic surgeon at CAMC.
Most leaky valves are repairable if patients get to a specialist at the first sign that something is wrong.
"One of the things we worry about is when you start experiencing increased pressure in the left heart chambers or lungs, developing high pressure in the lung arteries, cardiac rhythm issues or an irregular heartbeat," Alwair said. "That's the best time to operate and make repairs before the condition worsens."
Over time, untreated heart conditions can lead to heart and lung damage. Valve surgery is one of the most common heart surgeries in the U.S.
Traditionally, all valves were replaced if they were leaky or narrowed. But cardiothoracic surgeons found that keeping the patient's own valve, and making repairs to it, has more long-term benefits for the patient.
"The advantage over traditional surgery through the sternum is that it gives surgeons better view of the valve," Alwair said. "It's technically easier, which increases the likelihood that you can repair the valve versus replace it.
For the patient, there's less pain, earlier discharge home and quicker recovery.
"At CAMC, we are proud to offer minimally invasive robot-assisted mitral valve repair so our patients don't have to travel for the surgery," Alwair said.
CAMC is home to one of the top heart centers in the nation, performing thousands of diagnostic exams, heart surgeries, catheterizations and electrophysiology and interventional cardiology procedures each year.
CAMC's team of cardiovascular experts, advanced technology and innovative treatment options ensure that patients have access to the best care.
Mild symptoms range from:
No symptoms
Slight shortness of breath on exertion
You may need mitral valve repair if symptoms worsen:
Palpitation and irregular heartbeat
Increasing shortness of breath
Swelling in the legs
Congestive heart failure