When the COVID-19 pandemic hit, the Elton John AIDS Foundation introduced its COVID-19 Emergency Fund, allowing past grant recipients the opportunity to receive additional funding for relief efforts.
CAMC applied and was awarded $25,000 in grant funding over a six-month period.
"We applied for the COVID grant to support the existing harm reduction pieces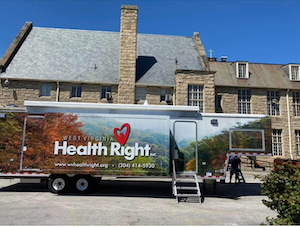 along with the necessary COVID elements," said Christine Teague, CAMC Ryan White Program director. "We were already providing HIV testing, Hepatitis C testing, bleach kits, information on the syringe exchange, naloxone and referrals to other agencies for services. We felt like the COVID application could be a natural extension of that work."
As many businesses and services were closing due to the pandemic, CAMC teamed up with WV Health Right, a free medical clinic, and Manna Meal, a soup kitchen, both located in Charleston. Together, the organizations held events daily at a local church in an effort to provide the most effective care possible to those in need.
"WV Health Right supplied the mobile medical unit, along with a nurse practitioner and a social worker," Teague said. "We provided basic medical screenings, COVID screenings, HIV screenings and naloxone, but we also provided basic prevention messaging and important supplies like hand sanitizer, masks and information on social distancing."
The city of Charleston has a homeless population of around 300 individuals, and these organizations were routinely interacting with at least 75 of these individuals daily. Two of those individuals, Daniel Jarvis and Raymond Hoover, made sure to take advantage of the services as much as possible.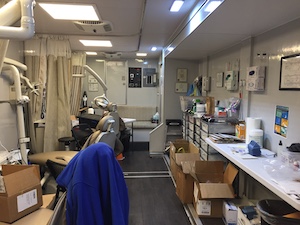 "We're used to going to the clinic, so to have it on site daily made it a lot more accessible," Jarvis said. "I was a little leery at first because of the pandemic, but over time, we learned how safe it was. They were really good about performing temperature checks and providing medical care to those that needed it during this time."
"The daily access was extremely helpful," Hoover said. "Staying on top of the HIV testing was also beneficial because we didn't want to let that go by the wayside during this pandemic."
The funds received during this difficult time have enabled CAMC and other organizations in the community to continue the important work they do each day. As the city begins to open back up, the care provided by CAMC will continue without interruption.
"The grant really benefitted the organizations because they didn't have to absorb any of the costs associated with these services," Teague said. "Even though we were already providing these services, this was the perfect initiative to help."
For nearly 30 years, the Elton John AIDS Foundation has provided funding throughout the world to organizations focused on ending the AIDS epidemic. With an emphasis on HIV testing, advocacy and connecting people to treatment and care, these organizations work to deliver HIV programs that will have a lasting impact in the communities they serve.
"CAMC was an Elton John AIDS Foundation recipient back in 2016, 2017 and 2018," Teague said. "We received the grant funds to support outreach and to develop a harm reduction program for individuals that live in the southern part of the state."
The funds from the Elton John AIDS Foundation focus primarily on communities with a heightened HIV risk. In Charleston, the homeless population is one such community.