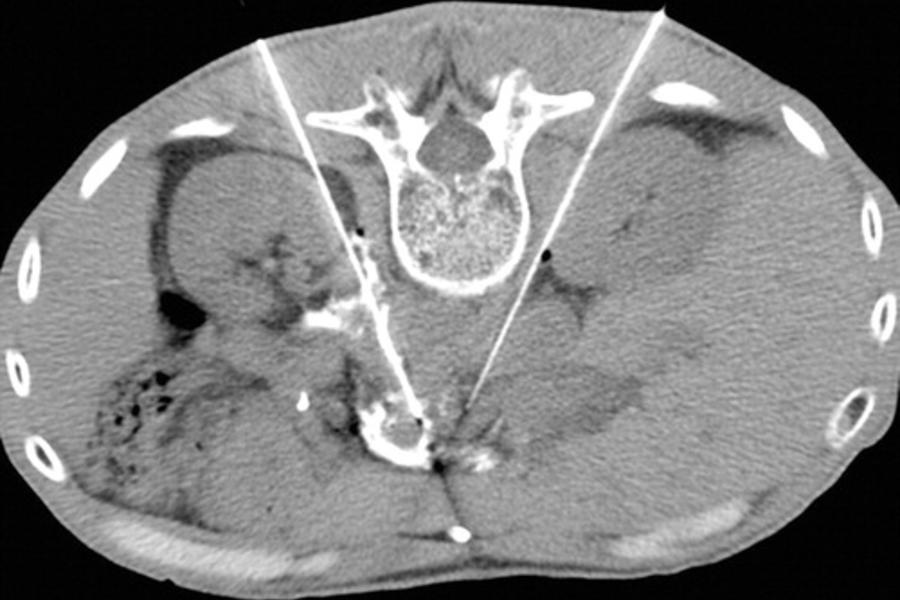 A high number of patients diagnosed with an abdominal cancer, such as pancreatic cancer often complain of severe pain.
There are various pain management strategies available, but often are not effective and come with side effects. A minimally invasive therapeutic technique has been demonstrated to decrease pain, improve function and reduce opiate dependence: a nerve block.
CAMC recently performed its first radiology celiac neurolysis.
Amy Deipolyi, MD, PhD, performed the nerve block with CT guidance. Within a few days pain was reduced by more than 50 % and the patient no longer needed IV pain medicines.
"This is remarkable," Deipolyi said. "Patients require fewer narcotics to manage their pain. Not only does this improve pain control, but also helps people be more wakeful and interact with loved ones. It is an honor to be able to offer palliative procedures that maximize cancer patients' quality of life."
During the procedure, the patient is sedated, and needles are advanced into the celiac plexus. A local anesthetic is injected to numb the nerves, then ethanol is injected to induce a long-term disruption of the nerve fibers that innervate the bowel, pancreas, liver and spleen.
Alternatively, this pain management procedure could be performed via endoscopy. This is the first time physicians at CAMC performed the nerve block with CT guidance in CAMC Radiology.
"Patients would have to be intubated for endoscopy and the spread of neurolytic agent cannot be visualized as well as it can under CT guidance in radiology," Deipolyi said. "Now we can target the pain directly with quicker results."