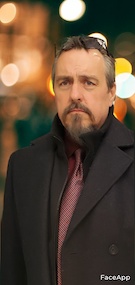 The humanitarian category of Heart and Soul recognizes employees for acts of kindness and charity that promote the well-being or improves the life of someone in our community. It also includes actions of bravery, courage and selflessness.
Kevin Schoolcraft works in information services. While on his way to work one morning, Schoolcraft came upon an accident involving multiple vehicles including a school  bus.
He was behind the school bus when it wrecked and barely missed the bus in the collision.
One of the cars involved caught fire between the Leon Sullivan Way and Greenbrier Street exits. Schoolcraft was one of several passing motorists who stopped as the car caught fire. Using a crowbar, he and another man broke a window and worked frantically to pull a woman from the burning vehicle.
The driver was removed from the car shortly before the passenger compartment burst into flames.
Before work the rest of that week, Schoolcraft, a 30-year CAMC employee, stopped at CAMC General Hospital to check on the woman, keeping her family comforted with words of encouragement and help with hospital information.