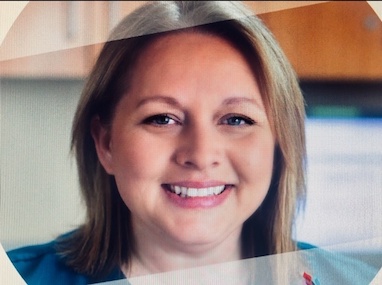 The Everyday Excellence Heart and Soul award recognizes those who model professionalism, are constantly reliable and consistently provide high quality results and service to customers.
Kyla Hudson, a perinatal ultrasonographer, provided an outstanding experience for a patient recently.
A patient came into the Perinatal Diagnostic Center to have her exam done and was going to find out the gender of the baby that day. At that time, there were no visitors allowed so the patient's husband had to wait in their car until her exam was completed.
The patient wanted to have some type of gender reveal since the father was not allowed in the hospital. The patient had brought gender reveal poppers with codes that determine boy or girl and asked Hudson if she would help with the reveal.
Once Hudson scanned the patient, she kept the gender a secret from the mother so she could find out the gender at the same time as the father.
Once finished, Hudson escorted the patient outside to meet her husband and released the appropriate popper in front of the parents in the parking lot of Women and Children's Hospital. The patient was so thankful for Hudson going the extra mile to make this moment special for them.
According to the nomination, Hudson does similar things routinely for her patients. One example was when a patient who had fallen at her workplace came to be scanned. The patient fell because she did not have the appropriate non-skid shoes for her workplace. After learning of the situation, Hudson and co-workers pitched in enough money so the patient could buy the correct shoes so she would not lose her job.
The nomination concluded by saying Hudson always goes the extra mile for her patients and truly cares about them.