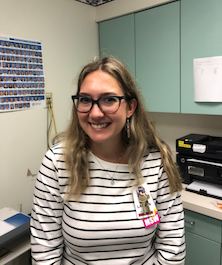 On March 9, the new outpatient pharmacy at CAMC General Hospital began providing discharge medication services to patients leaving the hospital. Many of these patients face financial difficulties or have issues with insurances wanting to cover medications.
In those times of need, Lauren Haye, social worker on 4 South, is one of the most efficient and reliable individuals. Her determination and ability to get things taken care of on the financial side before discharge has allowed staff on the unit to seamlessly provide medications in the quickest and most cost efficient manner for patients.
Those nominating Haye say she goes above and beyond the call of duty every day and always provides the outstanding effort. The pharmacy relies on her service to help with its everyday needs. Without Haye (and many in her department), patients would have a difficult time getting the medical care they need as they transition from the inpatient to outpatient setting. She has assisted with prior authorizations and costs of medications for countless individuals. She also has helped with patients that were not in her care.