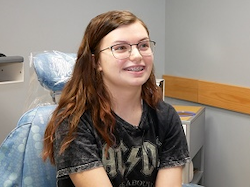 "I'm in love with it. I've never been this happy about my face."
Kelsey Smith is like any healthy teenager. Except that her bottom jaw was a little further back than her upper jaw so her teeth did not align properly. She had trouble eating, couldn't pronounce words correctly and had some muscle pain from constantly readjusting her jaws.
After realizing her braces could only help alignment so much, her dentist referred her to the CAMC Cleft and Craniofacial Center and Dr. Paul Kloostra for a corrective jaw surgery.
"When the bones are in a position that braces aren't conducive to being able to correcting alone, that's where I come in," said Paul Kloostra, MD, DDS, specializing in oral and maxillofacial surgery. "We can make the jaw longer or shorter. We can move it around and make it wider so that the teeth come together correctly."
Smith had heard about this type of procedure and watched online videos about it.
"In the beginning I was nervous about the surgery, but the staff and everyone made me feel calm and at home," Smith said. "I had the surgery in mind as soon as I got braces. I had an overbite and wanted to change my appearance."
Kloostra said the first goal is to make sure the teeth come together well and in a stable position.5
---
WATCH: Kelsey and Dr. Kloostra explain her condition and the corrective procedure.
---
"We want to help patients to be able to chew efficiently, improve speech and open the airway to aid with obstructive sleep apnea."
At the end of February, Smith had her final checkup with Dr. Kloostra, six weeks post-surgery.
"Now, even just biting down and having my teeth touch together feels so much better," Smith said. "It feels so much better knowing that they're in the right spot. And appearance-wise, it's exactly what I wanted."
"I would recommend it," Smith said. "I'm in love with it. I've never been this happy about my face."