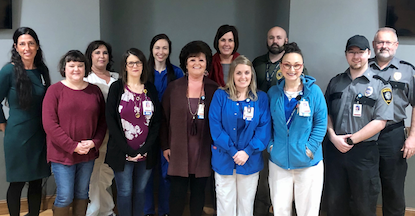 At its February meeting, the medical staff executive committee recognized the nursing staff and leadership of 7 South, General Hospital, Jan Ramey, Dr. Poulos and security for their willingness to provide care in a safe and compassionate manner to patients with substance use disorders.
In August 2019 this group volunteered for a pilot project to co-manage patients with medical problems and substance use disorders. This involved a great deal of upfront work on policies and procedures, patient agreements, stigma training, safety training, coordination and use of opioid protocols and Subutex and Suboxone treatment.
The staff has remained dedicated to the purpose of ensuring a safe, reasonable, therapeutic, non-discriminatory and standardized way of providing care and managing the needs of patients who have a recent substance misuse history.
Dr. Shelda Martin, who nominated the group, observed a situation which was escalating. A patient became confrontational with staff wanting to leave the hospital. A nurse and security officers worked with this patient for nearly two hours to ensure the patient was treated with respect and dignity while also meeting the patient's medical needs.