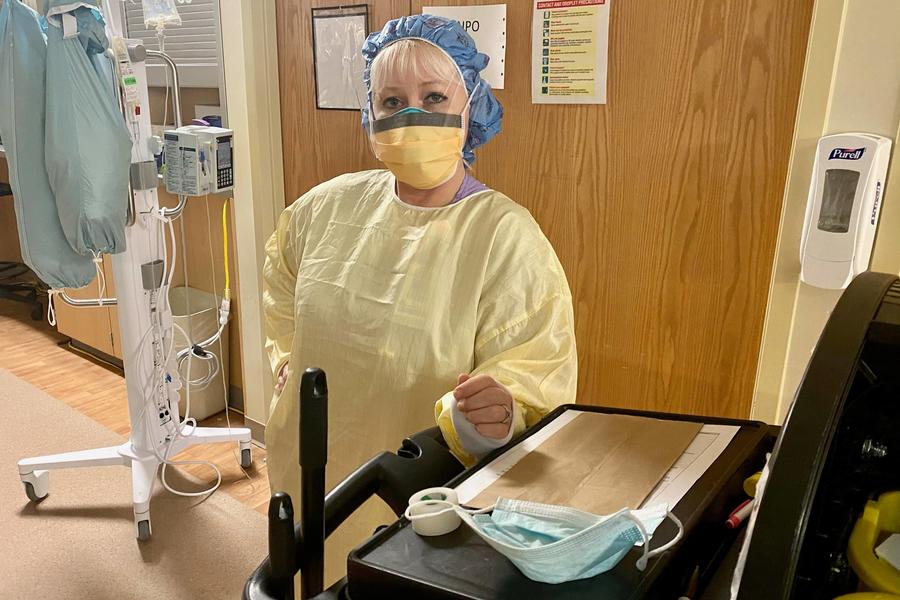 The Coronavirus pandemic has changed many ways we care for patients; manage visitors, vendors and guests; and even run hospitals. Since opening in mid-March, CAMC's command center has relied on many experts from various disciplines to support clinical providers. We continue to profile some of those experts who've worked tirelessly behind the scenes to provide information we need to provide the best care for every patient, every day.
BJ Childress works in environmental services at 5 Front at CAMC Memorial Hospital.
She's only worked at CAMC for two years, and half that time was during the pandemic. Initially her job was to make sure patients were sanitary and safe by emptying trash and cleaning. But that all changed when CAMC admitted its first COVID-19 patient in March 2020. Childress has been involved in COVID patient care ever since.
"It was scary in the beginning," Childress said. "Going into COVID rooms has changed. It takes a lot longer because we have to gown up, put on an N95 respirator, face shield, shoe covers and hair net. When we're done, we take it all off and sanitize. Then we do it all again before going to the next room."
Childress noted that process has added about 15 minutes to the time it takes to clean patient rooms.
Childress has not contracted COVID, but she has taken extra precautions, such as showering and changing clothes, when going home to her young children. She was recently vaccinated.
She also has learned a few lessons during the past year.
"Don't take anything for granted," she concluded. "I was scared at the beginning, but I didn't give up. You can work through anything."