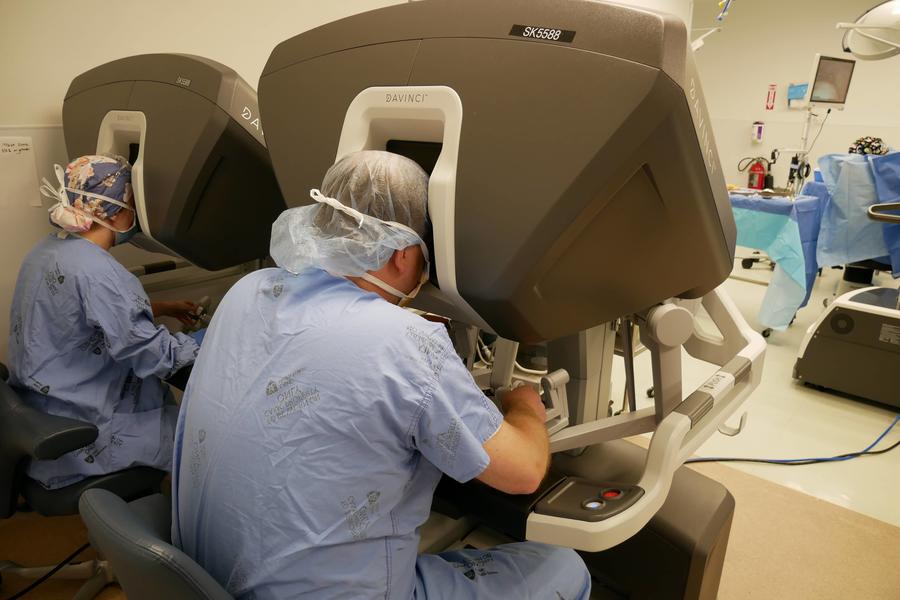 "Wow, you can really see a lot better!"
Surgeons practicing at CAMC Women and Children's Hospital are now using the most advanced surgical robot to assist with a variety of procedures.
The $2.6 million robot replaces an older model in use at CAMC Women and Children's Hospital since October 2019.
"I had used the XI model of robot at CAMC Memorial Hospital," said Stephen Bush, MD, obstetrician and gynecologic surgeon. "I didn't remember the difference until today. When I first looked into the console I thought 'wow, you can really see a lot better!' The optics are so much better with the newer version."
"This is a big upgrade from the previous robot at CAMC Women and Children's Hospital," said Stephen Bush II, MD, specializing in gynecologic oncology. "Compared to the older model, the instrument arms are longer, allowing us to reach farther into the pelvis. This is especially helpful in cancer cases and with larger patients."
Physicians use the robot at Women and Children's Hospital for multiple procedures including hysterectomy, salpingectomy, oophorectomy, lymph node dissection, cancer staging, myomectomy and other oncology procedures; combined robotic GYN procedures; and mastectomy for applicable patients.
Dr. Bush and a handful of other surgeons practicing at CAMC launched the first multispecialty robotic surgery program in West Virginia in 2007.
Since then surgical specialists practicing at CAMC have used robots to perform more than 10,000 procedures.
"We were the first gynecology robotic program in the state in 2006 and mentored other physicians in state," Bush said. "We were pretty much the pioneer for it at CAMC."
There are currently two surgical robots at CAMC Memorial Hospital and one at CAMC Women and Children's Hospital assisting surgeons. Two of the robots have teaching consoles. This dual console allows the attending surgeon to maintain control of the procedure while directing the resident during a procedure.
"We can slowly let surgical residents to get experience while guiding them during a procedure," Bush II said.
In 2020, CAMC was accredited as a Center of Excellence in Robotic Surgery by Surgical Review Corporation (SRC) distinguishing CAMC from many other facilities. This achievement means that CAMC has met nationally and internationally recognized standards. Not all hospitals and surgeons seek accreditation, and not all that undergo the rigorous requirements and inspection process are granted accreditation.
Some of the major benefits for surgeons using the robot versus traditional approaches have been greater surgical precision, increased range of motion, improved dexterity, enhanced visualization and improved access.
Patient benefits may include a shorter hospital stay, less pain, less risk of infection, less blood loss, fewer transfusions, less scarring, faster recovery and a quicker return to normal daily activities.
CAMC also uses a robot simulator to help train and maintain the skills of surgeons. The CAMC Foundation funded one of the robots plus the educational teaching console.