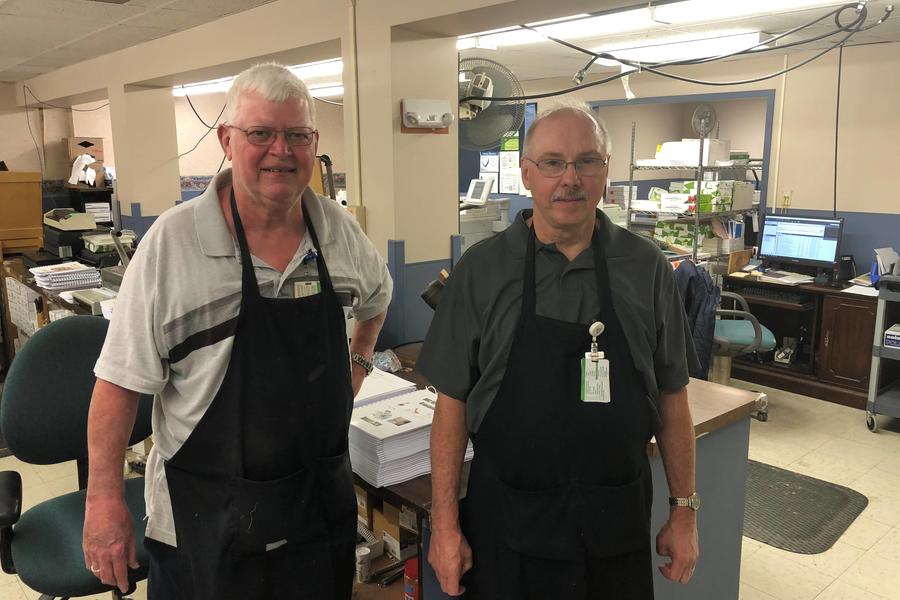 Each year, CAMC recognizes employees celebrating milestone anniversaries. This usually includes gifts and a formal program and dinner at the Charleston Coliseum and Convention Center.
Due to the COVID-19 pandemic, the dinner was cancelled.
However, we want to recognize some long-term employees for their exceptional service. In 2020, one employee and one volunteer celebrate 55 years of service to CAMC, six celebrate 50 years of service, 19 people for 45 years and 40 people for 40 years.
Two of those employees celebrating a big milestone this year work in the same department, David McClure and Larry Kinder.
While both men have been at CAMC for 50 years, they took separate paths to their current positions in printing services where they've spent the majority of their time at CAMC.
McClure started at McMillan Hospital and worked in the warehouse.
"We like what we're doing," McClure said. "This is a small department and there's not much turnover."
Kinder has worked in departments such as dietary, respiratory therapy, housekeeping and material handling.
"CAMC is a good place to work," Kinder said. "There are a lot of opportunities here."
Technology has changed quite a bit during the past 50 years. Gone are the labor-intensive and time consuming printing presses; replaced with state-of-the-art computers and copiers.
"Thanks to the computerization of health records, etc., we're printing more color booklets and fewer forms," McClure said.
Over the years, both men have also had children who worked at CAMC.
"The time has passed by pretty quickly," Kinder said.
Overall, 1,140 employees and volunteers are celebrating anniversaries in 2020.