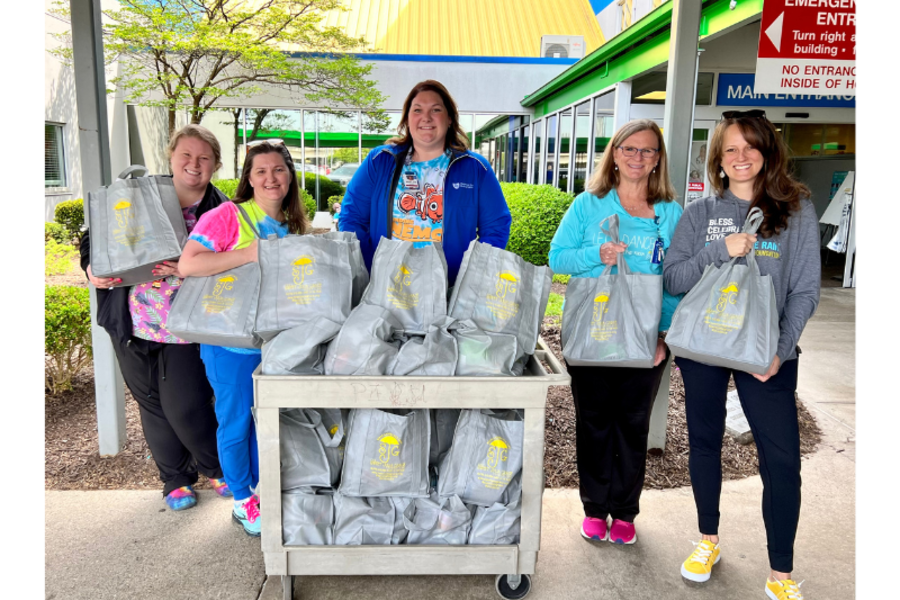 The CAMC Foundation was happy to welcome Community Giving Partner, The Sweet Julia Grace Foundation (SJGF), to CAMC Women and Children's Hospital April 25.
SJGF delivered care packages through its "Sunshine on a Rainy Day" outreach program to parents who either have children in the ICU or have been in the hospital for an extended period of time. The tote bags included items such as toiletries, snacks, water, notepads, etc., and were collected and packaged by individuals in the community.
"We are so excited to start working with The Sweet Julia Grace Foundation," said Summer Ray, child life specialist at CAMC Women and Children's Hospital. "Having a very ill or severely injured child is extremely stressful for parents and families. These care packages will help support these families through their medical journey."
SJGF was founded in 2014 and is based in Bristow, VA. The Foundation seeks to provide gifts and special support to both the siblings and parents of children facing a medical crisis.
"Being in the hospital with your child is stressful, lonely and overwhelming. Parents whose children have been admitted often had no time to prepare or pack a bag. They find themselves in the hospital with just the clothes on their back and often don't leave their child's side for days," said Sara Knight, founder of The Sweet Julia Grace Foundation. "Our hope is that these care packages provide parents and caregivers with what they need so they can take care of themselves, too."
Over the last few years, SJGF has delivered thousands of care packages to parents whose children are in the hospital. The Foundation is excited to now bring its hospital outreach program to West Virginia.
"We truly appreciate the support from The Sweet Julia Grace Foundation and the community partners for supporting our patients and their families," Ray said.
To become a Community Giving partner with the CAMC Foundation, visit www.camcfoundation.org/ways-to-give/host-a-fundraising-event/.
Learn More