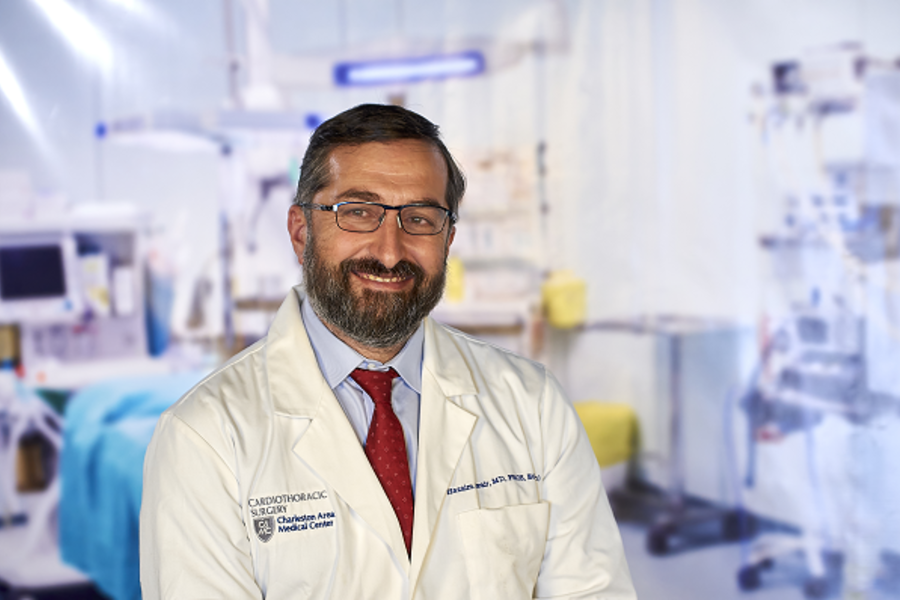 Hazaim Alwair, MD, FRCSEd (C-Th), has been named Medical Director of Cardiothoracic Surgery at Charleston Area Medical Center. In this role, Alwair will provide strategic development and aid in the growth of the cardiothoracic department, which is a vital component of the cardiovascular service line at CAMC. His experience and leadership will aid in further developing our cardiac surgical program, including minimally invasive cardiac surgery and robotic cardiac surgery. He will be leading the way in our exciting next steps of offering the best community care for our patients by developing a left ventricular assist program (LVAD) to improve our patients' quality of life with heart failure and developing an atrial fibrillation surgery center of excellence. 
"Dr. Alwair's leadership skills and experience are an excellent fit for expanding our cardiothoracic program," said Elie Gharib, MD, Division Chief and Medical Director of Cardiovascular Services. "His expertise in cardiothoracic surgery is unparalleled, and he has always been committed to the highest level of patient care, which greatly benefits our cardiac patients."
Alwair is a cardiovascular surgeon who has a wealth of experience in academic medicine and cardiovascular surgery. He completed a Minimally Invasive and Robotic Cardiac Surgery Fellowship at the Brody School of Medicine at East Carolina University, Greenville, NC. He also completed an LVAD (Left Ventricular Assist Device) and Transplant Fellowship at Duke University in Durham, NC. He has held a number of leadership roles, including ECMO Advisory Team, Director and ECMO Team Leader, Cardiac Surgery Division. In addition, he served as Surgical Director of mechanical circulatory support and LVAD, as well as Surgical Directory of the cardiogenic shock group at the University of Louisville School of Medicine. 
Alwair joined CAMC in 2021.