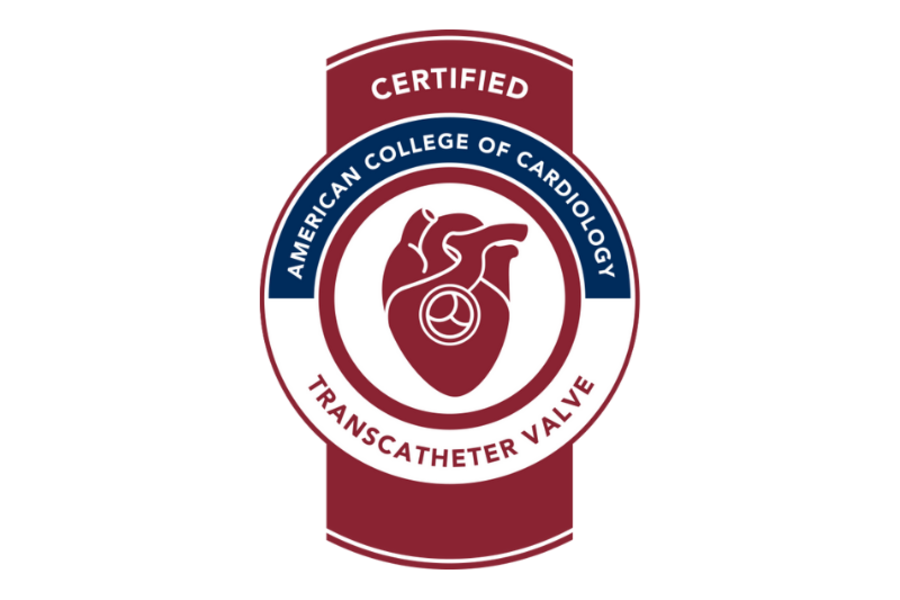 The American College of Cardiology (ACC) has recognized Charleston Area Medical Center for its expertise and commitment in treating patients receiving transcatheter valve repair and replacement procedures. CAMC was the only hospital in the state to be awarded Transcatheter Valve Certification based on the staff's ability to meet the highest standards for multidisciplinary teams, formalized training, shared decision-making and registry performance.
The ACC's Transcatheter Valve Certification involves an external review and certification process that pairs with established national clinical databases to monitor patient safety and real-world outcomes related to transcatheter valve therapies.
The voluntary certification highlights the hospital's quality and expertise in performing transcatheter valve procedures. Transcatheter aortic valve replacement (TAVR) is a minimally-invasive, catheter-based procedure that complements surgical aortic valve replacement. CAMC was one of the first hospitals in the region to perform transcatheter aortic valve replacement (TAVR) surgery in 2013. Since then, the structural heart team has performed nearly 900 TAVR procedures.
"This certification is a testament to our structural heart team's experience and expertise," said Lisa Songer, associate administrator of CAMC Memorial Hospital. "It's an affirmation of our longstanding commitment to advancing the ever-evolving field of interventional cardiology to ensure patients have access to the best care right here in their community."
CAMC's structural heart team treats patients with valve-related conditions like aortic, mitral and tricuspid valves. The multidisciplinary heart team includes cardiologists, cardiothoracic surgeons, anesthesiologists and dedicated structural heart coordinators. The heart team works collaboratively with the patient and family to determine the best course of action. Each plan of care is determined according to strict guidelines and quality measures.
"CAMC has demonstrated its commitment to providing southern West Virginia with excellent heart care," said Deepak L. Bhatt, MD, MPH, FACC, chair of the ACC Accreditation Management Board. "ACC Accreditation Services is proud to award CAMC with Transcatheter Valve Certification."
"ACC accreditation of our TAVR program is a testament to the continued pursuit of excellence in structural heart disease by our team," said Aravinda Nanjundappa, MD, director of the structural heart program. "The accreditation validates the collaborative effort by physicians from multiple specialties, advanced practice providers dedicated to the TAVR team, nursing services and experts from catheterization laboratories, cardiac surgery, vascular surgery and hospital administration."
The certification uses established national clinical measures to support clinical decisions and links process improvement to patient outcomes. Hospitals that achieve Transcatheter Valve Certification have learned best practices for implementing evidence-based medicine to support patient-centered decision-making and track key performance metrics to better identify opportunities for improvement.
In addition to the transcatheter valve certification, the ACC also has accredited CAMC's cath lab as a Cardiac Cath Lab with PCI, and accredited CAMC as a Chest Pain Center with Primary PCI – achievements that highlight the hospital's commitment to quality and process improvement for the benefit of patient safety and outcomes in two key areas of cardiac care.
"We are honored and proud to serve the patients of West Virginia and the Appalachian region with the best cardiac care each patient deserves," Nanjundappa said.
For more information about TAVR and other cardiac services provided at CAMC, visit camc.org/services/cardiac-care.