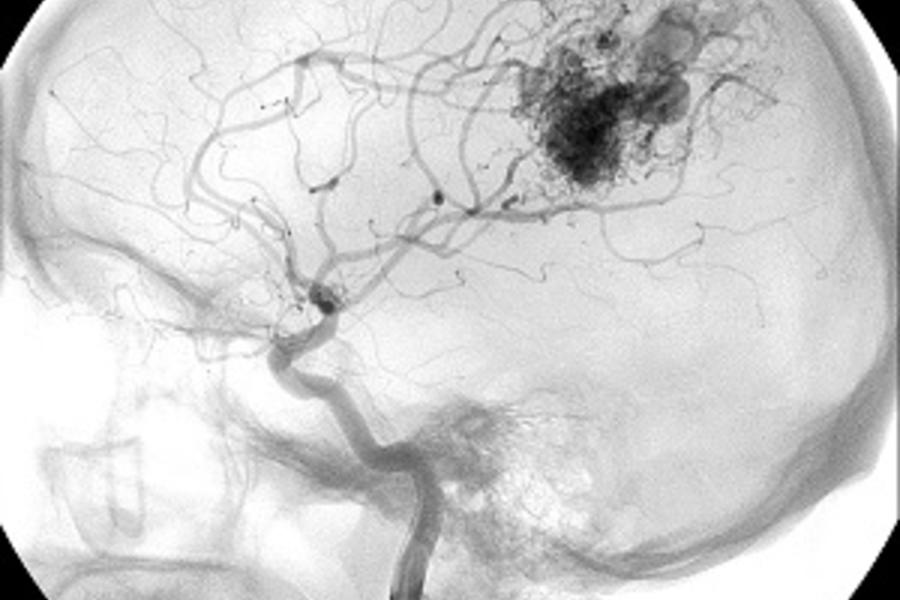 It can look like a bowl of spaghetti, tangled hair or a mesh of Christmas lights.
Cerebral arteriovenous malformations (AVM) are clusters of abnormal blood vessels connecting arteries and veins in the brain. These abnormalities disrupt the vital process of carrying oxygenated blood from the heart to the brain, which can lead to severe complications, including headaches, seizures, neurological damage, and eventually bleeding and stroke.
The danger of this rare condition is the possibility of bleeding, which over a lifetime poses a significant risk to patients.
The exact cause of AVMs is unknown. Some patients are born with them, while others develop them later in life. What is known, however, is how to effectively treat them using highly precise radiation therapy.
At CAMC, a specialized team uses a multidisciplinary approach to treat patients with AVMs, using a personalized plan to treat the condition in the safest, most effective way possible.
"We used to have to refer AVM patients out of state, but now we have these technologies to provide treatment of these complex issues at home," said James Harman, DO, endovascular neurosurgeon.
---
WATCH: Dr. James Harman and Dr. Lloyd Farinash describe the procedure.
---
Stereotactic radiosurgery closes the affected blood vessels using high doses of radiation delivered directly to the AVM in the brain. This process slowly shrinks, closes off and destroys the abnormal blood vessels.
Usually only a one-time treatment, stereotactic radiosurgery is non-invasive, does not require sedation and causes minimal side effects.
"We are here to support the neurosurgeons and offer a treatment that's very effective and been around for many years," said Lloyd Farinash, MD, radiation oncologist. "Being able to collaborate with other physicians is what makes better quality care for the patients."
Stereotactic radiosurgery was pioneered nearly 50 years ago as a less invasive, safer alternative to brain surgery, which requires cutting into the skin, skull and membranes surrounding the brain and brain tissue. Since then, technology has advanced and enabled radiosurgery to treat a wide array of neurological conditions, including AVMs.
Stereotactic radiosurgery is an outpatient procedure that can treat small AVMs that would be difficult to reach surgically due to their location and to shrink larger AVMs before surgery to minimize bleeding and other complications.
Results of the treatment are not immediate; often taking two to three years to see results, but the process can significantly reduce risk of bleeding and minimize risk to patients.
"A patient facing something scary, daunting and difficult to understand can feel reassured knowing that there is a large team of doctors, physicists, scientists and technicians all working collaboratively to provide your tailored care, which makes it safer and more effective," Harman said.