Every body, just like every injury, is different. From sprained ankles to broken bones, the physical therapists at CAMC have the specialized training and expertise to help your body recover from just about any injury.
Our Approach to Physical Therapy
The CAMC Physical Therapy Center is one of the region's oldest and most comprehensive rehabilitation facilities. We serve patients of all ages with a variety of injuries and physical impairments. We are committed to providing the highest quality of care in a compassionate and professional environment. 
Our therapy team of licensed and certified physical therapists, occupational therapists, physical therapist assistants and athletic trainers use advanced techniques and equipment to help patients recover from their unique injuries and conditions. 
When you come to our facility, you can expect to receive focused, efficient, goal-oriented care. There's a bond that develops between patients and their therapists, and with that in mind, you can expect to work with the same therapist from your initial evaluation through the completion of your therapy. Our objective is to help you return to a quality lifestyle that includes work, play, sports and activities of daily living. 
The CAMC Physical Therapy Center welcomes the privilege of working with you on the evaluation and care of your patients. We strive to enhance your practice through prompt consultations and clear communication. We welcome your calls, and our office staff will do their utmost to accommodate your patients in a timely manner.  
To refer a patient, please complete our referral form and fax to (304) 388-4910. 
For New Patients 
New patient appointments and returning patient's follow-up appointments are usually immediately available.  We do our very best to accommodate your busy schedule when reserving your appointment times and will work with you to the best of our capabilities to establish a mutually agreed upon schedule for your rehabilitation. We realize your time is very valuable and we work very hard to stay on schedule and we appreciate your courtesy and timely arrival for your appointments. 
We request that you arrive at least 20 minutes prior to your scheduled appointment time to allow for the registration process and completion of required forms. 
Your initial evaluation is scheduled for a one (1) hour time period to allow for a thorough evaluation by the therapist, education on your condition and home exercise program, and to answer any questions you might have. Your initial evaluation will typically be longer than your following visits. 
New Patient Checklist 
New Patient Questionnaire 
Bring the referral for therapy from your physician - we cannot see you without a referral. 
Insurance cards. 
All necessary medical information (X-rays, MRI reports, medication lists, etc.). 
Wear comfortable clothes for access to the involved areas/joints. 
Types of Physical Therapy
The therapy programs offered at CAMC include: 
Physical Therapy 
Sports Medicine 
Hand Therapy 
Neuromuscular Rehabilitation 
Athletic Training Services 
Pelvic Floor Rehabilitation 
Lymphedema Therapy 
Massage Therapy
Frequently asked Questions
Patients should wear comfortable clothing, like cotton T-shirts and sweatpants, athletic wear and tennis shoes. The exercises you will be doing may require moderate movement. 
Evaluation appointments typically last an hour. Treatment appointments following are 30 minutes. 
We treat various injuries, including sports-related and athletic injuries, sprains and strains from falls and more. 
We are a provider for most insurance plans. Each insurance company has its own rules and you should contact your insurance company to verify your therapy benefits. If you have questions about your specific provider, please call us.  
We no longer have this type of therapy. 
Each visit is individualized for each patient. Depending on your insurance, you may be responsible for a copay or co-insurance. If you don't have insurance, a financial counselor is available to assist you.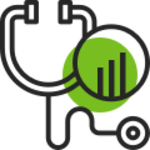 What Sets Us Apart?