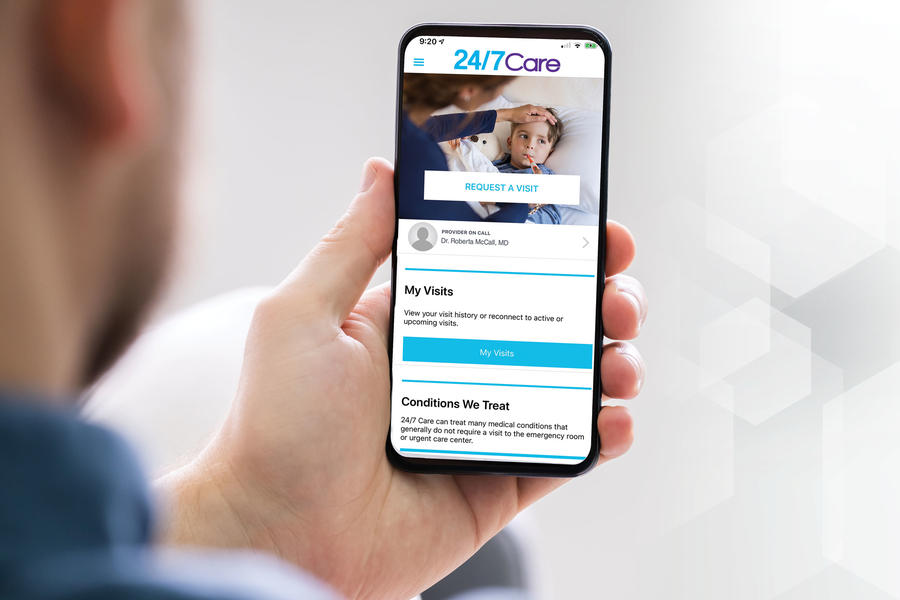 Not feeling well? 24/7 Care gives you access to round-the-clock medical care anytime you need it – 24 hours a day, 365 days a year – even on holidays.
Simply download the 24/7 Care app, set up an account, and request a secure visit by phone or video any time you need non-emergency care for minor injuries and illnesses, including Coronavirus, colds, sinus infections and more.
The cost per visit is normally $49*, and most insurances are accepted. However, if you are experiencing mild (non-emergency) COVID symptoms or think you have been exposed and want to be tested for COVID, for a limited time, you can use CAMC's 24/7 Care app to talk to a provider FREE using coupon code COVID. The provider will give you an order to be tested, if necessary.
Anytime you request a visit with a 24/7 Care provider, one of our experienced, licensed medical professionals will talk to you via phone or video (your choice). They will diagnose your condition, recommend treatment, and even send a prescription to your nearest pharmacy, if needed.
"I had back pain recently that I wasn't sure about, so I used 24/7 Care. The doctor called me quickly, listened to my concerns, discussed treatment options with me, and prescribed medication, all in less than an hour," said Desmond Groves, Charleston. "I felt very comfortable with the care I received, and I didn't have to miss work or even leave my house."
24/7 Care saves you the time and expense of an emergency room or urgent care visit, thereby reducing your exposure to others who may be sick.
Since CAMC launched 24/7 Care in October 2019, there have been more than 12,000 patient visits. The top diagnoses have included viral infections (including more than 4,000 visits for Coronavirus), sinusitis, respiratory infections and urinary tract infections.
For more information, visit camc.org/24-7Care.
*24/7 Care visits are always free for CAMC employees and their immediate family
Learn More