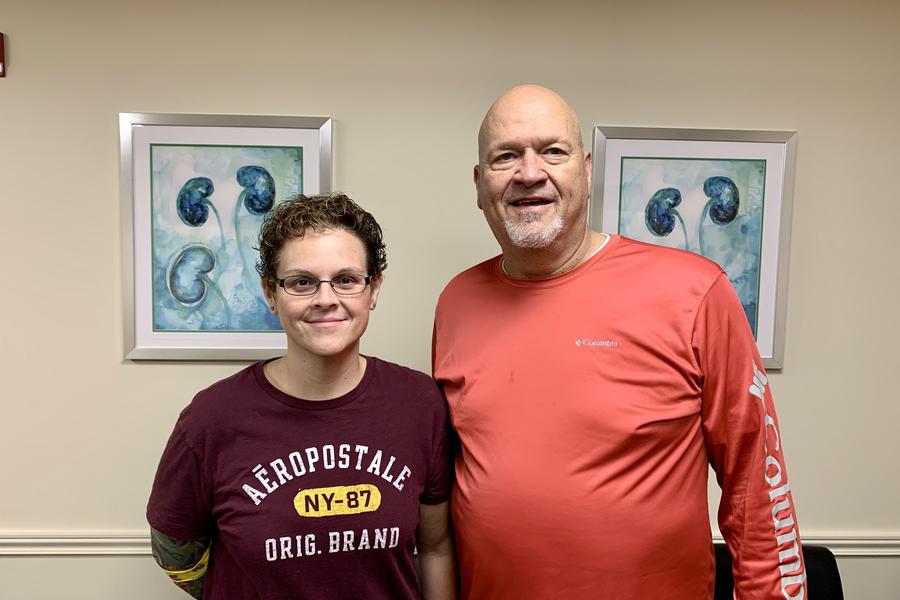 The CAMC Kidney Transplant Center works tirelessly to provide life-saving kidney transplants for individuals on the waiting list. In 2020 alone, the team completed a record-breaking 100 kidney transplants, surpassing its previous record and becoming the only transplant center in West Virginia to reach that number in a single year. However, the success of the transplant team hinges largely on one factor – organ donors.
Organ donations occur in many ways. Most donations come from deceased donors whose organs are still viable for individuals on the waiting list. Other donations come from living donors who may be family members or friends of someone in need, while a small percentage of donations come from altruistic (living) donors with no intended recipient – they simply want to donate to someone who needs a transplant.
For Melissa Spencer, becoming an altruistic donor was a personal calling she was more than happy to fulfill.
A resident of Belle, WV, Spencer made the decision long ago to be an organ donor. However, the recent passing of her father caused her to research organ donation, which opened her eyes to new possibilities.
"My father had a massive heart attack and died January 13, 2018," Spencer said. "At that time, I didn't know he wanted to be an organ donor, so they didn't get to donate any of his internal organs. That triggered me to start reading about living donors. I wanted to do something while I was alive, both for me and my father since he wasn't able to."
Spencer reached out to the CAMC Kidney Transplant Center, and after completing myriad tests, was cleared to be a donor. On April 28, 2021, shortly after receiving her medical clearance, Spencer donated a kidney to Eric Mitchell.
Mitchell came to CAMC from Danville, VA, after a long struggle with kidney disease.
"I have a kidney disease called fibrillary glomerulonephritis, which is the scarring of the filtering organisms inside the kidney," Mitchell said. "Basically, the kidney just ends up deteriorating to the point where it doesn't filter the liquid in your body anymore. I was diagnosed in 1996 and ended up going on dialysis in 2018, so it slowly progressed."
After being placed on multiple transplant lists in surrounding states in 2016, a visit to the CAMC Kidney Transplant Center confirmed that he would be first on the list for his specific blood type. All he had to do was wait for the call.
That call came April 21.
"They said they may have an altruistic donor and asked if we could get up here," Mitchell said. "We told them we'd be there the next day. I got my bloodwork done, they sent a tissue sample to Pittsburgh to make sure there weren't any issues, and we ended up being a match."
For Mitchell, receiving a kidney from a complete stranger was more than he could comprehend.
"You can't put it into words. It's unbelievable," Mitchell said. "You don't even know them, but they've given you life. It gets me choked up a little bit just thinking about it."
The opportunity to donate life and fulfill the wishes of her late father was what made this experience for Spencer so special.
"I told him I was grateful I could help," Spencer said. "This was the best gift I could ever give anybody. If you are able to do it, I would recommend talking to someone about it. It's the best feeling in the world to help someone have a second chance at life."
This was the fifth altruistic donor transplantation performed at CAMC.
"I absolutely love working with living donors. They are very special people, but when we have an altruistic donor come forward, it is a truly amazing experience," said Susan Hanna, lead transplant coordinator at the CAMC Kidney Transplant Center. "These are people that have no particular recipient in mind and just want to help someone without any personal gain. It is a reminder that there are still great, selfless people in the world."
For more information on how to become an organ donor, call the CAMC Kidney Transplant Center at (304) 388-7823 or visit camc.org/Kidney.