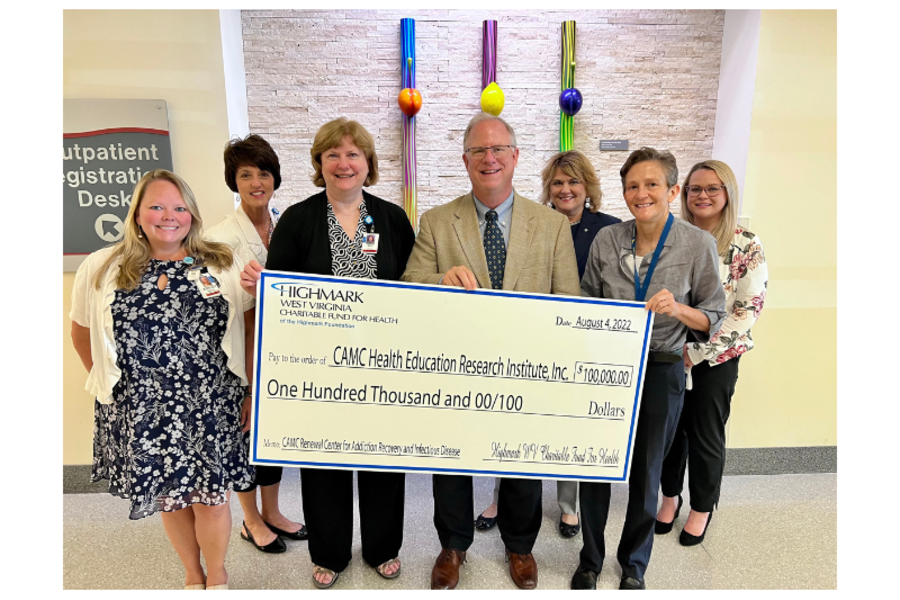 CAMC will receive $100,000 from the Highmark West Virginia Charitable Fund for Health to support the expansion of the CAMC Renewal Center for Addiction Recovery and Infectious Disease program with a comprehensive primary and infection disease care clinic. Additionally, it will support expansion of the CAMC Family Resource Center to include services for children affected by substance use disorders (SUD).
CAMC began a multidisciplinary approach to tackle the addiction problem in its community in 2018.
"We are excited to partner with and thank Highmark," said Shelda Martin, MD, associate chief medical officer. "Funds will be used to expand services for children that will help decrease stigma and validate children who are affected by SUD. This will allow CAMC Addiction Services to expand and enhance services that our community desperately needs. The CAMC Ryan White HIV Program also will help deliver life-changing and life-saving SUD resources to struggling, at-risk populations. Meeting people where they are with mobile SUD primary and infectious diseases care will be a great step forward in creating a healthier community for all."
CAMC is one of eight non-profits in West Virginia to receive grant funding focused on improving SUD outcomes in the state.
"The tremendous response we received illustrates the true need that exists in our state and remains a struggle for many in our communities," said Jim Fawcett, president of Highmark West Virginia. "Focusing on improving Substance Use Disorder outcomes supports Highmark Health's multipronged opioid strategy to combat addiction, and we are thrilled to lend our support to organizations that are accomplishing life-changing work for West Virginians experiencing the effects of SUD."
"The Highmark West Virginia Charitable Fund for Health is proud to partner with the CAMC Health Education Research Institute on this program grant, which will support the expansion of its Family Resource Center to include services for children affected by SUDs," Fawcett added. "We are looking forward to seeing the positive impact these grant funds will make in the lives of residents throughout the entire Mountain State."
The funded grants focus on initiating effective SUD health programs and services or expand existing services that offer viable approaches to prevention, treatment, harm reduction, and support for long-term recovery.